Thank you for visiting our Donation Page! Security World is ecstatic and proud to be hosting Drive and Dine
II
. This event will be sure to bring Westchester County closer together in honoring and supporting our heroes, the troops.
There are two parts to our event on June 1st 2014:
First, we will line up sports cars and motorcycles at Valhalla High School (Valhalla NY) and do a rally through a dozen towns and villages in Northern Westchester. The ride will have police escorts with their lights and sirens on, all of our cars with American flags flying, and the Fire departments are rolling out the trucks to raise huge American Flags for us. A truly unique experience for Westchester County.
After our drive we will pull back into Valhalla High School. Here we will have a car show, fully-stocked luncheon with great Italian food, raffles and auctions.
Even if you didn't drive this will be a great place to show your support and get fed while doing it!
Auctions include signed items from the Jets, Giants, Rangers, and more! Raffles include tickets to Met's games, Yankee games and more!
No matter what size donation you would like to give we greatly appreciate it! However, if you are giving 50 bucks or more and live in the Westchester area I encourage you to go to our website and sign up for the lunch, your donation will cover the registration donation! Just sign up and e-mail us that your made a WWP donation.
Last year we finished off around $9,500, just shy of our goal of $ 10,000. We had over 40 historical cars, sports cars, motorcycles, and emergency service vehicles.
This year we are going to hit 100 vehicles and $15,000!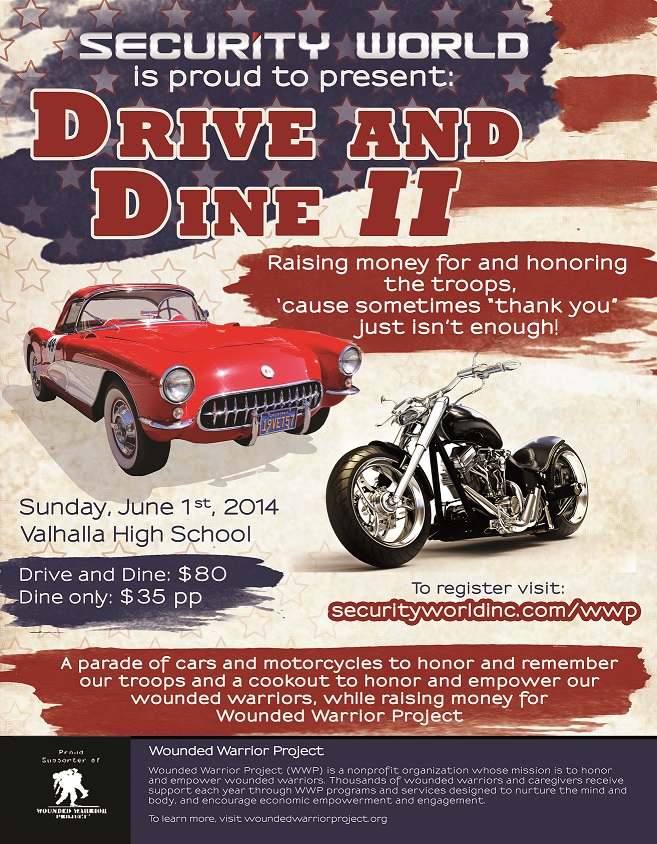 Pictures from last year's event: www.flikr.com/securityworld
Register for the event and join us @ securityworldinc.com/wwp