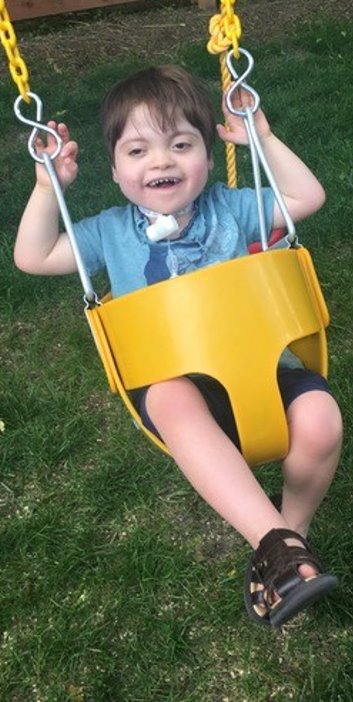 Four year old Ethan is full of life and joy and he has a smile that lights up a room! He doesn't meet a stranger and will ask just about anyone to read a book to him. He is in love with all things music and musical, as well as lights. He is a busy boy and doesn't stop moving until nap time and night time. This coming fall, he will be going to preschool.​
Ethan was diagnosed with Congenital Diaphragmatic Hernia (CDH), a condition in which your diaphragm doesn't completely fuse and allows for abdominal organs to move up into the chest cavity, impeding the growth of his lungs and displacing his heart to the wrong side of the chest cavity. This condition also led to him having severe pulmonary hypertension which led to the placement of a tracheotomy. He was initially placed on a ventilator 24/7 but has been weaned to only using it when he sleeps. Ethan is nonverbal and he uses a combination of signs/gestures, and low and high tech devices.​
More recently, Ethan has also been diagnosed with Autism. Developmentally he is believed to be at about a 15 month old level. It has been recommended that he have speech and occupational therapy. As his parents cannot sustain the cost of both therapies and receiving both simultaneously would be most effective in his progress, his family is asking for assistance with an integrative speech and occupational therapy program.​
​Integrative Speech and Occupational Therapy - $5000​