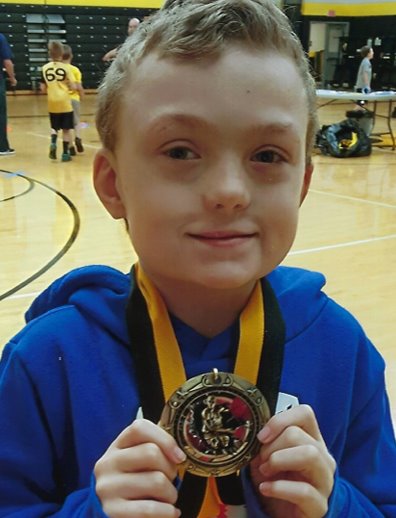 Ten year old Ethan LOVES everything sports – watching, playing, talking about them. He plays basketball and soccer. Ethan tells great jokes and has the most contagious laugh you will ever hear. And a couple of his accomplishments include riding a bike, and tying his own shoes! Ethan was just awarded the "Yellow Jacket Award" for the fourth grade for his school spirit and for following rules!!​
Ethan was born with a cleft lip and heart defect that required surgery at 2 days old. His first month was spent at Children's and he went home with a feeding tube. He has been in therapy since he was 3 months old and has been diagnosed with many other health issues including: tethered cord release, gall bladder removed, hearing loss (he wears a hearing aid), several hospitalizations for croup, low muscle tone requiring casting and leg braces, and apraxia of speech. ​
Ethan has graduated from the St. Rita apraxia program. However, he is entering 5th grade and is reading on a 1st grade level. Like everything else in his life, he needs a boost to reach his potential.​
INTENSIVE READING PROGRAM- $5,000
Donors
Stein Party

$100.00

150 days ago

Eric & Katie Gregory

$100.00

143 days ago

Michael and Loraine Herbert

$100.00

138 days ago

Katie Butler

$100.00

160 days ago

Karen Gregory

$50.00

150 days ago

Carolyn Burke

$50.00

146 days ago

Anthony and Maria Gigliotto

$50.00

146 days ago

Frank and Linda Thayer

$50.00

146 days ago

Joann Strong

$50.00

143 days ago

Daniel and Denise Beckedahl

$30.00

143 days ago

Debi McCrea

$30.00

136 days ago

Eric & Katie Gregory

$25.00

143 days ago

Albert and Nannette Leight

$25.00

154 days ago

Ronnie and Linda Eckenroth

$25.00

154 days ago

Susan Fieler

$15.00

136 days ago